Een kort fragment uit het jaarverslag 2007
Klik hier voor het volledige rapport
Message from the Director
Throughout the year we operated 4 centers. That is: – Imani A, Imani B, Imani Malindi, and Ngong preparatory project. Other than the said 4 projects we also operated the After Imani Boys project in Kibera slums. In the latter we gave temporary shelter to our boys in
tertiary level of education and who have got no families for a possible re- union.
We were able to change the lives of 346 children in our centers and in the community.
We supported their education in primary schools, Secondary and at Tertiary level. We
were also able to rejoin 58 children and to carry out routine follow ups. This year we also
had increased areas of networks with the community and through which we were able to
promote the welfare of children and their protection in our communities among other
things.
Among our draw backs, there was very poor turn up of prospective parents for the
children infected by HIV/AIDS. Many families wanted to give a family to the normal
children and not the physically disabled, mentally challenged or affected with HIV. It
was challenging why are families not there for a child with special needs.
Our plans in future is to have a study room and a computer room for the children, to
install electricity at Imani B, to strengthen community based foster care, to empower families be better able to care for the rejoined children through small income generating
activities and also to build the capacity of Imani in general.To achieve this dream we
need financial resources and therefore through our board we will work extra hard to
mobilize our local resources.
In the coming years, we will also continue to sustain our relations with our donors,
partners and well wishers so that we can be able to meet the growing needs of the
children and the community.
We really appreciate our donors, well wishers and all our stakeholders at different levels
for all the support they accorded us throughout the year and for all the areas that we were
able to network. For sure were it not for your various inputs we could not have made it
this far. We are also looking forward for your continued cooperation and support as we
strive to 'contribute into a society in which all children will lead a dignified existence
with equal and just access to opportunities in life'.
Kind regards.
FAITH WANJIRU.
DIRECTOR – IMANI CHILDREN'S HOME.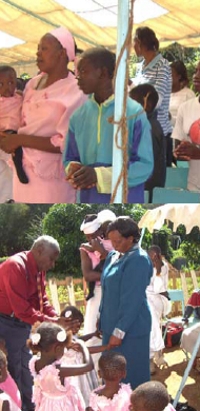 1.0 INTRODUCTION.
The last year 2007 was a very busy one. We were able to work with 246 children: 70 at
our Malindi rescue centre, 60 at Imani B centre in Matopeni slums, 98 at Imani A centre
in Soweto slums, 15 at Ngong preparation house, and 3 in the after Imani what next –
boy's project in Kibera slums. Other than the 246 children we permanently managed, we
also worked with another 100 children in the community.
In year 2007 we worked with children belonging to following categories:- of street
families, abandoned children, of imprisoned mothers, affected and infected by HIV /
AIDS, orphaned, and children neglected or abused by their parents as a result of domestic
violence. We managed to rejoin 58 children successfully back to the community and we
also did 96 home visits in the urban and the rural areas. Throughout the year our aim was
to work with the community for the welfare of the children in the community as that is
where they belong.
The highest percentage of the children we dealt with were the children left abandoned on
the streets, roadsides, dumpsites without care and protection. Particularly in September
and October many children were abandoned, a situation we associate with increased
unprotected sexual activities during the eve of Christmas among the slums people. We
therefore have a big role to create extensive awareness in our slums. We are also in the
process of encouraging community based foster care of such children found abandoned in
our communities.
Majority of the children did well both in schools and at the centre. Majority of them also
topped their classes in the end of the year exams. The motivation strategies used to
motivate them also worked well.
The weather conditions changed with times throughout and this affected the health of the
young children. As a result in course of some quarters the hospital bills hiked. Majority
of illnesses were managed in our 2 first aid clinics.
Deriving to our vision and mission statement, we were involved in a number of activities
to meet our goal.